07. July 2020
What system actually? 17.&18. July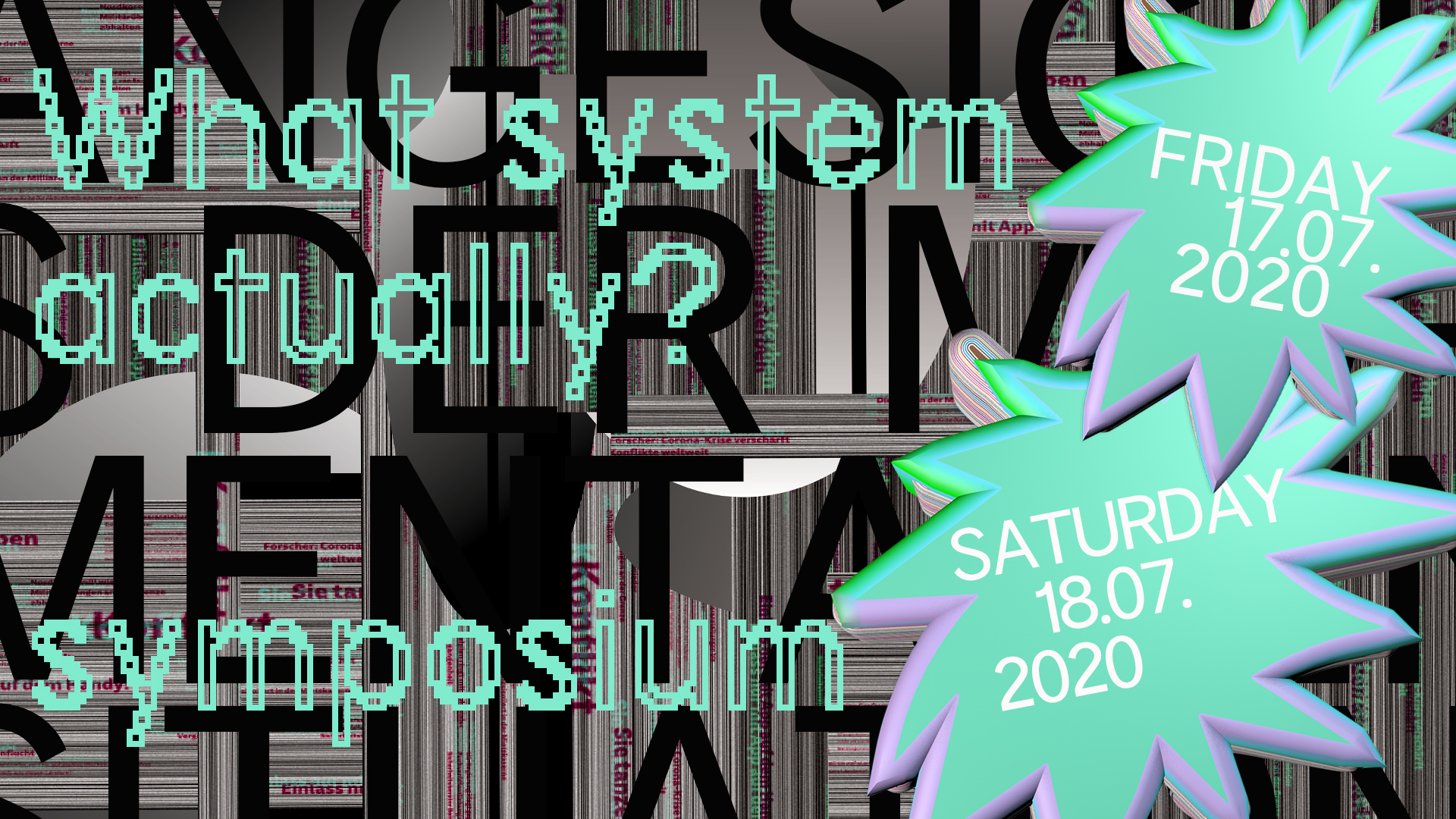 What system actually?
The two-day symposium entitled "What System Actually" refers to the German term "System-relevant", in reference to the essential workers "necessary" to keep "the system" running during the ongoing pandemic. Paradoxically, the pandemic has amplified the very exploitative conditions of neo-liberal capitalism, exposing the precariousness of many of the system's "relevant" workers. Through this symposium we would like to interrogate "the system" through thoughtful conversations about the potential to move beyond notions of competition & exploitation.
Aiming to imagine alternatives and share strategies about how to make this happen, we will take a close look at questions regarding art and activism; the democratisation of democracy; precarity, labour and migration; the structures of cultural institutions and their involvement with the private sector; the commoning of institutions and digital commoning practices; the decentering of western exhibition histories and the actual relevance of art in societies.
The symposium will take place on Zoom, which is a private and commercial communication tool officially provided by the University of Kassel – and will be available as a video- and audiostream on station of commons, an open source online platform. This broadcasting alternative opens the symposium up to a wider audience and poses the question: What system actually?
With artistic and discursive contributions by:
Yin Aiwen, Angela Anderson, Freja Bäckman, Nanne Buurman, Matthijs de Bruijne, Sonja D'Alto, Katalin Erdődi, Denise Ferreira da Silva, Valentina Desideri, Juan Gomez, Lorenzo Graf, Ayşe Güleç, Carina Herring, Iman Issa, Ksenia Kaverina, Annette Maechtel, Jumana Manna, Oliver Marchart, Amilcar Packer, Agnieszka Polska, Grégoire Rousseau, Nora Sternfeld, David von der Stein, Julia Stolba, Olaf Val, Cecilia Vallejos, Sônia Alto, Lorena Vicini, WHW (Nataša Ilićand Sabina Sabolović)
In collaboration with: Station of Commons http://stationofcommons.org/
To join the symposium, please enter the zoom link or streaming plattform on http://stationofcommons.org/
Programme
Friday, 17th of July
2.00–3.00 pm
Opening of the alternative Rundgang by the students of the Kunsthochschule Kassel & Statement from Rector Joel Bauman
3–3.45 pm
Introductions
What System Actually? An introduction to the symposium by David von der Stein, Angela Anderson, Nora Sternfeld, Grégoire Rousseau, Lorena Vicini, Julia Stolba
On Art and Activism, Ayşe Güleç
On Democratising Democracy, Oliver Marchart
3.45–4:45 pm
Working Conditions
A talk on art and labour struggles with Katalin Erdődi, Cecilia Vallejos und Matthijs de Bruijne
Moderation: Angela Anderson
5–5.30 pm
Tuning Echoes
A dialogue with EhChO, a collective experience that responds to the urgencies unleashed by the novel coronavirus global pandemic, and in particular to its effects on already economically dispossessed and politically persecuted and disenfranchised persons, communities and territories, mostly, but not exclusively, in/from the South, and in particular within Brazil.
Moderation: Lorena Vicini
5.45–6.30 pm
Whose Award actually?
A discussion with nominees of the Prize of the Nationalgalerie 2017 Iman Issa, Jumana Manna and Agnieszka Polska
Moderation: David von der Stein und Angela Anderson
6.30–7 pm
Commoning Institutions
A dialogue on the commoning of institutions and on the possibility of institutions also driving commoning further.
Anette Maechtel in dialogue with Carina Herring
7.15–8 pm
Peer-forming the Commons
A talk on digital commoning practices and P2P technology with Station of Commons: Gregoire Rousseau, Juan Gomez and ReUnion: Yin Aiwen.
Moderation: Nora Sternfeld and David von der Stein
8.30 pm – Midnight
Music sounds better with you. Helsinki and Kassel b2b
Saturday, 18th of July
3–3.30 pm
Filmscreening: Serpent Rain
Serpent Rain is as much an experiment in working together as it is a film about the future. The collaboration began with the discovery of a sunken slave ship, and an artist asking a philosopher – how do we get to the post-human without technology? Introduced by Lorena Vicini
3.30–4.30 pm
What, How & for Whom ?
A conversation with Nataša Ilić and Sabina Sabolović (WHW )
Moderation: Angela Anderson and Nora Sternfeld
4.30–5.30 pm
What happened actually? Reflections of the talks so far
David von der Stein, Angela Anderson, Nora Sternfeld, Grégoire Rousseau, Lorena Vicini, Julia Stolba
5.30–6 pm
Whose exhibitions? Whose World?
A talk on exhibition histories between Lorena Vicini and Nora Sternfeld
Moderation: Julia Stolba
6–8 pm
Sounds and Specters of Exhibition Histories
With the researchers Sonia D'Alto, Freja Bäckman, Nanne Buurman, Stefanie Fridrik, Jan Gebbe, Lorenzo Graf, Ksenia Kaverina
6–6.15 pm
Blitz And Other Exhibition Strategies in The 80s In Naples
Sonja D'Alto
6.15–6.30 pm
One Agreement: A Curatorial Reportage
Lorenzo Graf
7–7.15 pm
Noise performacneces in the Soviet Union in 1920's
Ksenia Kaverina
6.45-7 pm
documenta as a Haunted Exhibition
Nanne Buurman
7.15–7.30 pm
I was told I chop wood like a ballet dancer (On Circles)
Freja Bäckman
7.30 pm
Q&A