19. November 2019
Taking a Stance, 20.11., 6:30 pm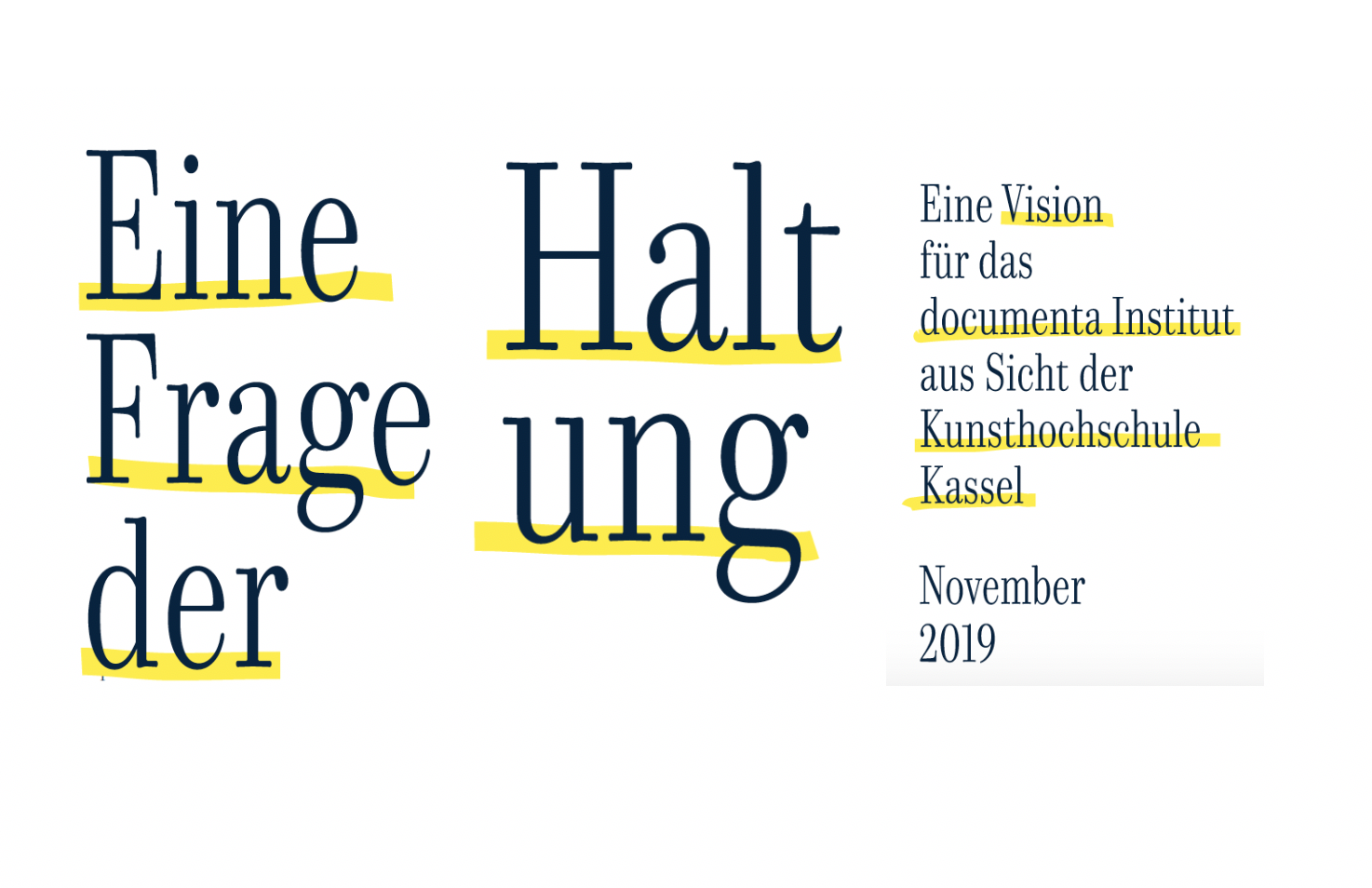 Taking a Stance
A Vision for the documenta Institute from the Perspective of the Kunsthochschule Kassel
We at the Kunsthochschule Kassel would like to become more deeply involved in the development of the documenta Institut in terms of its contents. We therefore invite you to an open discussion:
Wednesday, November 20, 2019
6:30 to 8:00 p.m.

Auditorium Kunsthochschule Kassel
Menzelstr. 13-15
34121 Kassel
Speakers (Kunsthochschule Kassel):
- Joel Baumann (Rector)
- Alexis Joachimides (Prorector)
- Dierk Schmidt (Professor of Visual Art)
- Nora Sternfeld (documenta Professor)

Including contributions from Gabriele Franziska Götz (Professor for Visual Communication) and Hendrik Dorgathen (Professor for Illustration and Comics).
Background:
The documenta Institut is meant to focus on a commitment to think art seriously – as an individual case but also as a fundamental attitude in face of reality. This requires that the documenta Institut be just as radical, just as free, just as experimental and formative as the documenta itself.

So what should a documenta Institut be? Should it stand for a bureaucratizing and 'quasi-posthumous' historicizing of the documenta, or can it do justice to the experimental, artistic claims that have always characterized this institution? If we assume that the documenta has significantly influenced what we now understand as a large-scale exhibition, how will we understand exhibition studies tomorrow, and how will we think about exhibiting overall?
Following the discussion there will be ample opportunity to ask questions of the presenters. Your participation and reporting would be greatly appreciated.
Your contact person in the press office at the Kunsthochschule Kassel:
Çiğdem Özdemir
Press and public relations
T +49 561 804-5366
presse@kunsthochschule-kassel.de
www.kunsthochschulekassel.de