04. May 2020
learning unlearning, 19.5., 18:30 Uhr ONLINE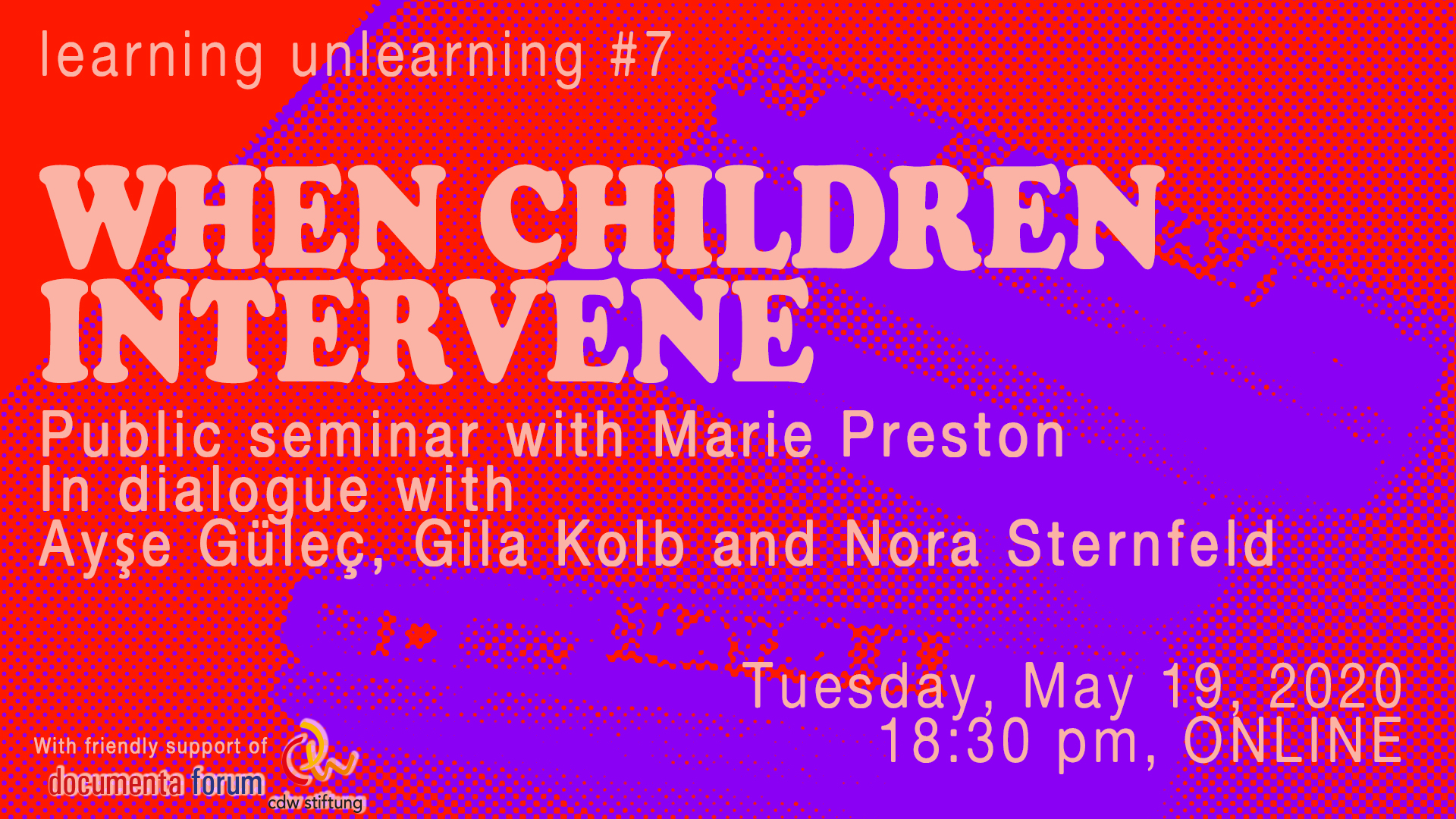 Marie Preston in dialogue with: Ayşe Güleç, Gila Kolb, and Nora Sternfeld
Public Seminar in English language. Everyone is welcome.
19. May 2020, 6.30-8.00 pm
The event takes place online - please register at the following address: info@documenta-studien.de
In the mid-1960s, the schools in La Villeneuve were invented as part of the creation of this new town on the periphery of Grenoble. During a study trip on self-management in Yugoslavia organized by "Culture et liberté," a workers' educational association, representatives from Grenoble met the two future coordinators and pedagogical consultants for the schools in La Villeneuve, Rolande and Raymond Millot.
Des enfants s'en mêlentis the name of the newspaper published at one of these schools. Over twelve years, from May 1989 to May 2001, 39 issues were produced. Subtitled "a newspaper of opinions" it had a print run of three or four hundred. For Albert Sousbie, a former teacher at the École des Charmes, the paper should be considered alongside "nonprofit or activist newspapers: the organs of political groups, unions, associations," the voice of "a minority which it seeks to help make more active and more listened to."
During the seminar, Marie Preston will present this experiment within the context of libertarian pedagogy on the one hand and, on the other, of the practice of "printing in schools" as systematized by the French pedagogue Célestin Freinet. After this, we will discuss what the results of this experiment might be able to contribute to practices of collaborative production and art education today.
As an artist and teacher-researcher, Marie Preston sees her work as artistic research and ethnographic exploration, resulting in works that document experiences with those she meets. Her artistic process, based on the interaction of the knowledge and know-how of all involved, aims to create shared spaces. The resulting works – photographs, sculptures, performances, and films – range from the presentation of experiences through collective actions.
She is currently working on two research projects, one focusing on practices of baking and their ecology, the second dealing with alternative approaches to teaching via research into a network of experimental schools created in France's new towns of the 1970s and '80s on the basis of self-management, cooperation, and openness. With Céline Poulin, she co-edited the book Co-Creation(Editions Empire & CAC Brétigny, 2019) in cooperation with Stéphanie Airaud.
Kindly supported by cdw Stiftung and documenta forum.