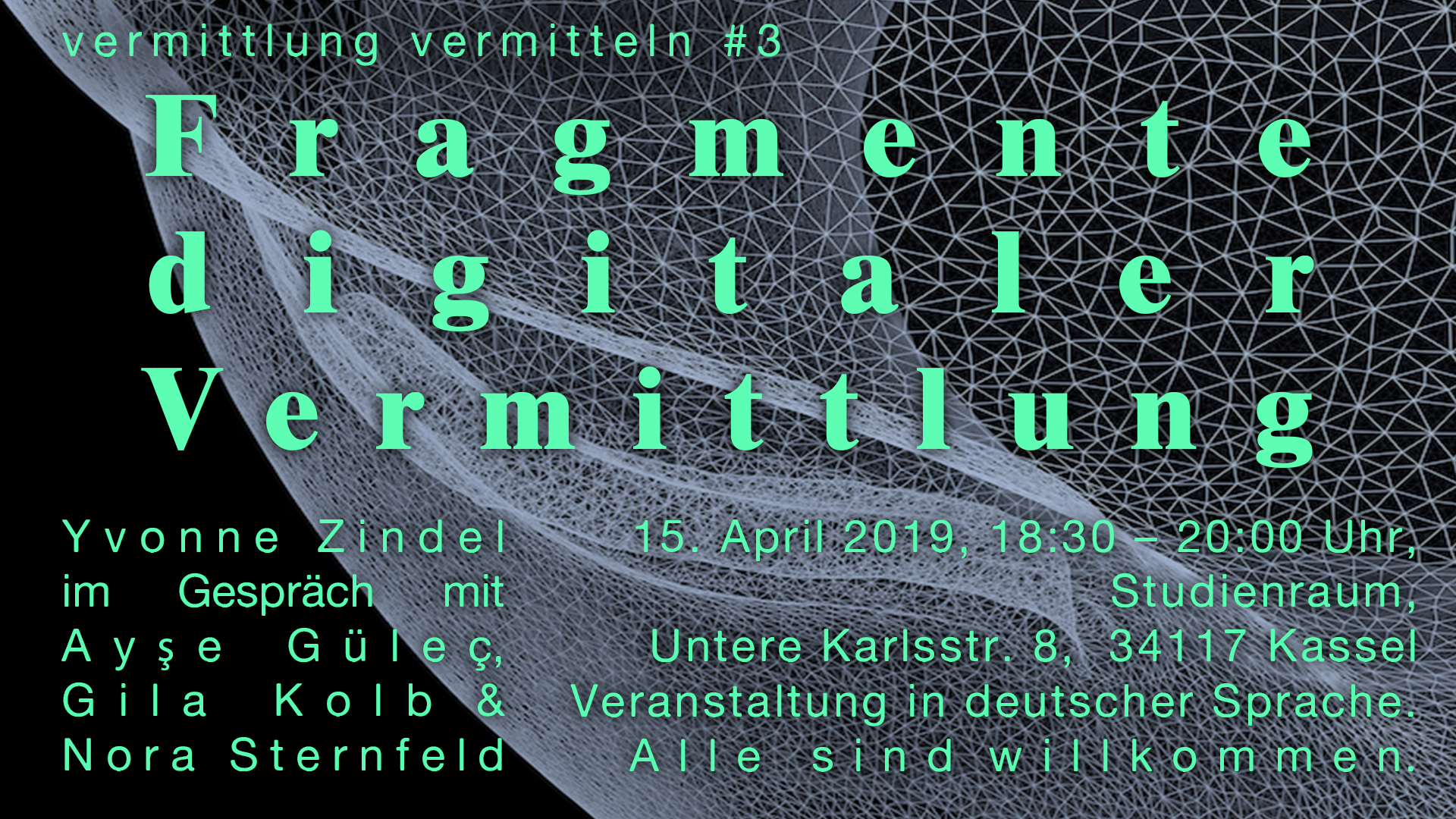 learning unlearning #3, April 15, 2019, 6.30–8.00 pm
What is digitalization? And does it concern us as art educators, beyond questions of social media and strategies for (self-)marketing? If so, how could a concept of digitalization be made useful for education? It is, after all, within the wider discourse around processes of digitalization – particularly in museums, archives, and art institutions, i.e., the potential sites of art and cultural educators' activity and learning – that specific discourses from different disciplines collide: within digital humanities, digitalization is thought of as offering a possibility for the organization of archives or catalogues; within (critical) museology, by contrast, the emphasis is on the possibilities it opens up for collections to deal with their collecting methods in light of postcolonial and anti-racist discourses, as well as the those around art education that (also) put representation-critical approaches at their center. Within the context of digitalization, however, there is much in these approaches that is still open, possible, and which needs to be discussed. Together with students of the University of the Arts Berlin's Institute for Art, and with the help of a programmer, a conceptual workshop was held during the 2018/19 winter semester that produced several concepts of digitalization in order to facilitate an educational practice that asks the question: "Is digital better??!" The result of this workshop is a highly subjective and expandable database, "Fragments of Digital Mediation," responsibility for which will be taken over by Berlin's Humboldt University from the 2019 summer semester onward.
In conversation with Yvonne Zindel, a range of topics will be discussed that all operate at the intersection of issues of education, criticism, the public sphere, and digitalization. We will investigate questions around the commons, different pictures and publics, and the possibilities of hacking.
Yvonne Zindel is an artistic assistant at the Berlin University of the Arts, where since the beginning of 2018 she holds a research position for the project Revisiting Collections – Transformations in Cultural Education, using the example of the digital mediation of non-European, ethnological collections as part of the innovative project "DiGiTal – Digitalization: Design and Transformation." Her approach to critical research around the themes of digitality, postcoloniality, and multi-perspectivity stems from her involvement with varying concepts of mediation, as developed, for example, in her role as a research assistant at the Staatlichen Museen zu Berlin (National Museums in Berlin), where in 2017 she developed an overall concept for the museum's educational work in the Humboldt Forum. As a representative of artistic art mediation, she is the initiator of various events, including the Performing Encounters salon series and the Technobodies events at the Volksbühne Berlin.
----
learning unlearning is a series of events dedicated to the history and present of art education in exhibitions. It reflects and discusses theories, strategies and practices of mediation. The series suggests that documenta can be seen as a trigger and impetus that can set in motion forms of assembly, negotiation, and debate about art, about the world, and about exhibitions. The public series of events is a collaboration between the documenta professorship at the Kunsthochschule Kassel and Gila Kolb (agency art education).
study room is a place of public debate run by the documenta professorship in the city center of Kassel.