04. December 2023
in freiheit dressiert // being natural is simply a pose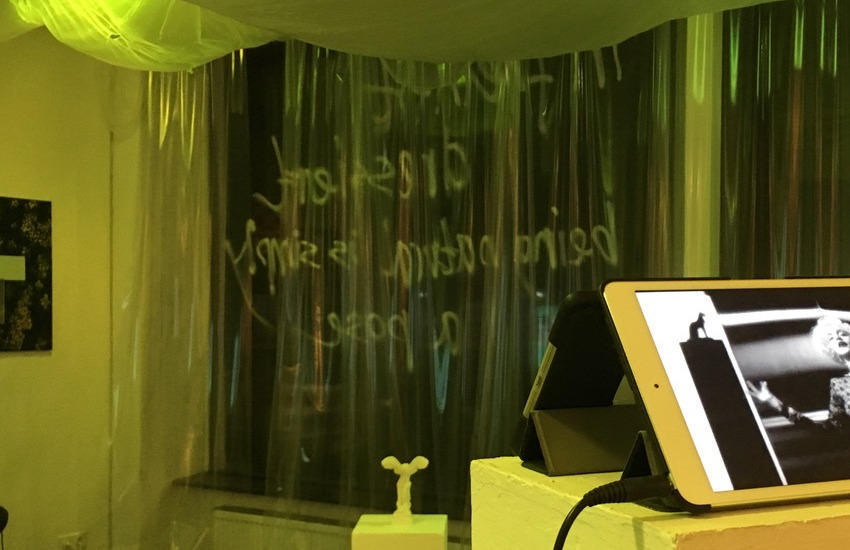 Where: Wächterstraße 11, 04107 Leipzig
When: Wednesday, November 27, 7-9 pm
in freiheit dressiert // being natural is simply a pose
In 1919, the same year that the Bauhaus was founded, a group of women started the Loheland school for Physical Education, Agriculture and Craft to provide other women with a holistic education as gymnastics teachers. Dubbed at the time as the "Amazons' State in the Rhön", their program to liberate the body from civilizational corsets by recovering its "natural range of motion" later tempted Ernst Bloch to describe these life reform settlers as a "purification movement" whose unrestricted but nevertheless artful demeanor appeared like being "dressed in freedom."
Now, one hundred years later, participants of Nanne Buurman's curatorial research seminar at Kunsthochschule Kassel spent the summer of 2019 engaging with the parallels between historical life reform practices and today's slow-and-conscious living trends, such as yoga, detox and decluttering. From November 18th through the 22nd, they set up the exhibition "in freiheit dressiert // being natural is simply a pose" in Kassel as a laboratory to jointly investigate the political ambivalences of back-to-nature movements then an now. Notions of immediacy, transparency and purity were critically examined by curatorial and artistic means in order to better understand the deployment of "nature" and "naturalness" in the context of neoliberal greenwashing and the (new) right.
For the Show and Try Again program at the occasion of the 10th anniversary of the Cultures of the Curatorial Master's Program in Leipzig, on Novemeber 27 (7-9pm) the group will experiment with a repertoire of Lohelandian body practices through the lens of voguing to reflect on the biopolitical implications of historical modes of subjectivation and their contemporary reenactments.
Exhibition in the study room
Where: Untere Karlsstrasse 8, 34117 Kassel
When: 18.- 22. November 2019, 4-8 pm
Program:
Mon November 18th, 7 pm: Opening with Modern Myths by Johanna Brummack & Thea Drechsler, RE_SELL by Rike Suhr

Tue November 19th, 8 pm: Talk with Daniel Hornuff and Nanne Buurman on The New Right and its Design
Wed November 20th, 4 pm: Breaking Landscape by Anna Fischer de Saa. From 6 pm the exhibition will be closed. Everyone is invited to the event Eine Frage der Haltung, Hörsaal der Kunsthochschule, Menzelstraße 6:30pm
Thur November 21st, 4 pm: Detox-Day with Green Tea, Yoga & Vegan Snacks, Seven Days by Luna Hirt and Wahlverwandschaften by Alina Pia Preuß
Fri November 22nd, 7 pm: Closing event with Vegetable Song by Thea Drechsler and Green Spirit by Pia Jansen & Mirjam Habtemichael, exhibition opens at 4 pm.
Credits:
The exhibition was developed in the context of Nanne Buurman's project seminar Curatorial Research at Kunsthochschule Kassel in collaboration with Johanna Brummack, Thea Drechsler, Anna Fischer de Saa, Mirjam Habtemichael, Luna Hirt, Pia Jansen, Alina Pia Preuß, Friedericke Suhr, and others. Curatorial Advice and Support: Jacob Birken
The project is realized in dialogue with Elisabeth Mollenhauer-Klüber (Loheland Archive) and Silke Mehrwald (Archiv der deutschen Frauenbewegung) as well as Beatrice von Bismarck, Benjamin Meyer-Krahmer, Julia Kurz, Agnieszka Roguski (Cultures of the Curatorial) and Merle Petsch, Katarina van den Brinck, Julie Högner, Ina Weisser (Try Group of the project Show and Try Again).
It receives financial support from the Federal Ministry for Education and Research, the State of Hessia, and the Fachschaftsrat of the School of Art and Design Kassel.
Special thanks to:
Nora Sternfeld, Carina Herring, Julia Stolba and Ina Wudtke (team documenta studies)
For their invaluable help we are also grateful to: Matthias Sauer, Jascha Schieche, Michael Link, Marco Krummenacher and Kai Sonntag