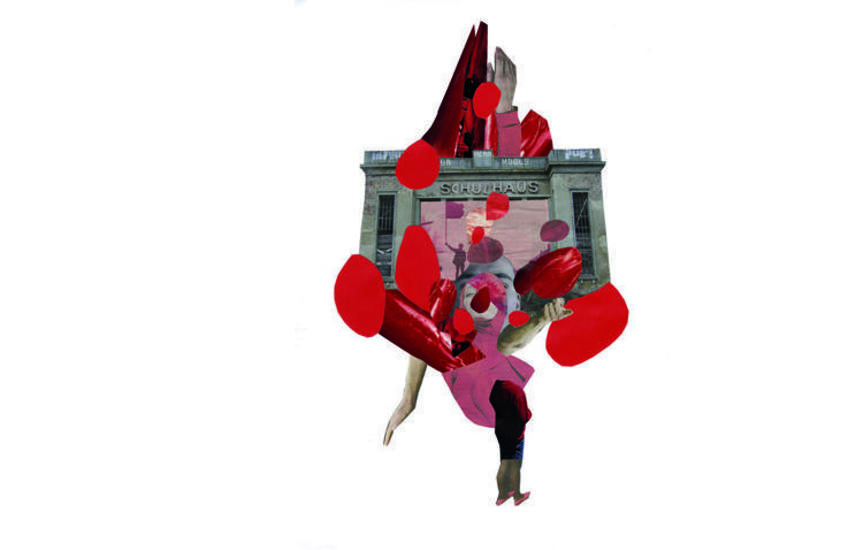 Rote Signale
Solidarität Macht Schule
exhibition and solidaric school
July 12-20, 2019, daily 4-8 p.m.

Opening:
Thursday July 11, 2019 6 p.m., 9-1 p.m. Party (Swing & Electro Swing)
artists and complices: Arbeiter*innenlieder Chor (worker songs choir), Künstler*innengewerkschaft: Selbsthilfe der Artisten, Tristan_Marie Biallas, Richard Brüse, (editorial office) Dezentrale, Charlie* Fink, Fabienne Finkbeiner, Maike Kurzmann, Natalia Mandryka, Julia Majewski, Katharina Rensing, Simoan Trautner, (female rapper) Vania, Ina Wudtke a.o.
Stellwerk im Kulturbahnhof
Rainer-Dierichs-Platz 1, 34117 Kassel
About the project:
Initiated by a group of people, most of whom are students of the Kunsthochschule Kassel and their complices, the Stellwerk im Kulturbahnhof Kassel will be transformed for a week into a self-organised place of teaching and learning, a weekly school of solidarity. Guest lecturers will be invited, panel discussions will be held and there will be room to view changing works of art. Inspired by the Marxist Workers' Schools (MASCH) and the Workers' Playgroups of the Weimar Republic, the exhibition Red Signals in the Bauhaus Year deals with themes such as "What does solidarity actually mean?", "Who today forms the so-called working class?", "How do we solve the increasingly threatening housing issues?", "How can we, as LSBTIA+ persons, make politics of pleasure?", "What does it mean if Paragraphs 218 and 219 still intervene in our body policies? "How do we attain self-esteem and empowerment?" and "Why does it need an artists' union?" Questions that were already much discussed in the 1920s, we want to measure against the present in current discussions. Among other things, short films on the question of housing will be shown in an exhibition situation in the Stellwerk.
The opening will take place on July 11 from 6-9 in the signal box of the Kulturbahnhof. From 9 p.m. on, for all those who still have energy, a free small fine swing party (until 1 a.m. maximum) will start with the DJs Rich1arts (Kassel) and T-INA Darling (Berlin).


Admission free for exhibition and solidarity weekly school!
TIMETABLE
//
Thu 11.7.2019
Vernissage
6-9 p.m. Vernissage
9-9:30 Swingteaser with Franny & Hannah
9:30-1:00 Swingparty DJs: Rich1arts (Kassel) & T-INA Darling (Berlin) Swing & Electro Swing
//
Fr 12.7.2019
5-7 p.m.
Empowerment Rap Workshop ! - Rapperin Vania
Here we will deal with omnipresent topics linguistically and textually. The focus is on both individual and collective experiences, grievances and utopias. What do I want to say to the world ? How can I tell a story ? Why do I want to tell something?
Why do we have to hurry ? You can expect rhyme structures, beats and rap history ! At the end everyone has the chance to try out the microphone.

A maximum of 15 participants.
Register under:
<vaniamagnesium@gmail.com>

Exhibition: 4-8 p.m.
//
Sat 13.7.2019
4-10:30

Eatable city & Green Resolution,
herb walk at subsistence level
Snippet party in the Commons kitchen of the good life
Glassy Restaurant free food for everyone from about 20h.

End ca. 10-11h. A maximum of 30 participants
register for dinner at: natalia_mandryka@web.de
Exhibition: 4-8 p.m.

//
Sun 14.7.2019
13:30-15:30 h

Vulvina Workshop with Tristan_Marie Biallas
Vulva and Vagina, Vulvina for short, are often perceived as provocation in the public presentation. They are neglected in research. In the workshop, we leave this very fuss aside. There will be an anatomy input and a space for exchange. At the input all people are welcome who want to know more about vulvines. The exchange part will take place without Ci's men and trans enemies. Just come by.
Exhibition: 4-8 p.m.
//
Mo 15.7.2019
18-20 Uhr
Public Choir Rehearsal Arbeiter*innenlieder Chor
Exhibition: 4-8 p.m.
//
Tue 16.7.2019
Decentralized newspaper editorial office
all day the new edition of the "Dezemtrale" is "created
Exhibition: 4-8 p.m.

//
Mi 17.7.2019
7 p.m.
"Why does it need an artist union?" 
Speaker*in: "Self-help of the Artists" a.o. J.A. / K.F. The project "Self-help of the Artists" reacts to the precarious working and living conditions with which young artists* are confronted. The permanent willingness to perform and constant competition, which lead to self-exploitation and isolation, is to be countered politically within the framework of an artists' union. 

Further information:

Instagram: selbsthilfe.der.artisten
Fb: künstler_innengewerkschaft
Exhibition: 4-8 p.m.

//
Thu 18.7.2019
8 p.m.
Lecture by " Kassel entrüsten (to disarm Kassel)"
We report about Kassel's special position among the German cities (a stronghold of armament production and export !) and about the small revolts against it - i.e. we also report about the peace
Exhibition: 4-8 p.m.
//
Fr.19.7.2019
1:30-3:30 p.m.
Queer Stories: Discover Autobiographical Lines. 

A writing workshop for everyone with Charlie* Fink
Who am I? We draw autobiographical lines and record them linguistically. Red lines, heart and head lines, rainbow lines from Coming Out to discrimination experiences to Pride. Graphically and textually we play with our facets. It's about self-confidence, community and empowerment. Queer stories are diverse and non-linear. They are fun and play with structure. It's not about performance, but about the fun of exploring and sharing!

Maximum 10 participants
registrations under:
<kontakt@astqr-kassel.de> or just come by!
Exhibition: 4-8 p.m.
//
Sa 20.7.2019
4-7 p.m.
Create a Zine You burn for a topic and want to give others access to it? Sometimes a zine is a great way to get started. In the workshop you create a mini zine that fits on an A4 page. So it can be reproduced even with a tight budget. Together we will work out a meaningful content distribution and consider how to make the Zine accessible to as many people as possible.

No restrictions on the number of participants, if you are interested just drop by.

Exhibition: 4-8 p.m.
//
END