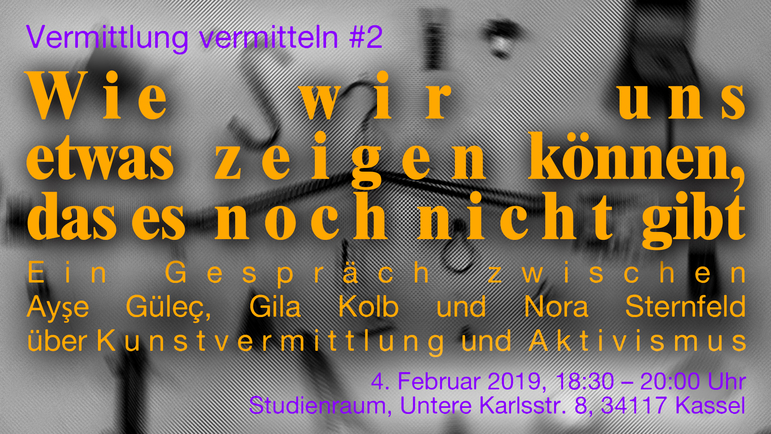 How we can show ourselves something that does not yet exist
learning unlearning #2
A conversation between Ayşe Güleç, Gila Kolb, and Nora Sternfeld about art education and activism
The conversation will discuss forms of action, interventions, and imaginings within art mediation. What spaces of action are possible for art mediators – such as "affirmative subversion" (G. Spivak) or unlearning or pre-enactment (O. Marchart) – within the framework of exhibitions? If we assume that art and mediation are capable of questioning the prevailing conditions, then this occurs in two ways: On the one hand, the visible, the sayable, and the showable become fragile, debatable, and questionable through critical mediation. On the other hand, other ways of seeing and knowing may also come to light. These concern our understanding of struggles, but also our understanding of what may otherwise be possible. We aim to show ourselves something that does not yet exist. In this context, we will discuss the experiences of art mediators in the exhibition space of "The Society of Friends of Halit" during documenta 14.
Ayşe Güleç is an educationalist, researcher, and activist who works at the interface of anti-racism, art, art mediation, and migration. From 2016 to 2017 she was head of documenta 14's community liaison, creating connections between artists, artworks, and sociopolitical contexts. She is active in the collective movement Unraveling the NSU Complex and was involved in the coordination and implementation of the Tribunal Unraveling the NSU Complex. From 1998 to 2016 she worked at the sociocultural center Schlachthof Kassel, where she was responsible for migration as well as local, regional, and European activist networking. For documenta 12 (2007), she developed the advisory committee documenta 12 Beirat, subsequently becoming the group's spokesperson. In 2012 she worked to educate art mediators as part of dOCUMENTA (13)'s "Maybe Education" program.
Gila Kolb is an art pedagogist, art educator, and currently a lecturer on teaching methodologies for the MA in Art Education at the HKB University of the Arts and the PH University of Teacher Education in Bern. She is co-founder and editor of the trilingual interview blog The Art Educator's Talk (2016) and co-founder of agency art education (2015) and the group MethodeMandy (2012). From 2016–2017 she was a member of the faculty of documenta 14's aneducation art education project. Since 2017 she has led the research project The Art Educator's Walk – Handeln und Haltung von KunstvermittlerInnen zeitgenössischer Kunst am Beispiel der Grossausstellung documenta 14 in Kassel at the HKB Bern, with a research focus on intermediality.